2 Year Old Birthday Party Entertainment
Sometimes, 2 year old parties are filled with a variety of different aged children and parents desire activities to keep these different aged kids entertained… but … If you stayed in touch with your Mommy and Me  Group or your child is in daycare, it is likely that most children coming to your 2 year old's party will be 2 as well.
What should you expect from a 2 year old at their own birthday party?
Some 2-year-olds take a while to warm up to new situations while others are a bundle of energy and enthusiastic curiosity and dive into everything…and I mean everything!
It is great to have plans, but expect the unexpected and go with the flow…
Need 2 year old birthday party entertainment ideas?
Here are some activities that 2-year-old's enjoy:



Hand-Painting
I usually start off offering hand-paint instead of face-paint for 2-year-olds. They seem more open to trying new things when they can see what is happening.
2 year olds will either LOVE getting painted or hate it. But the ones who love it will be REALLY into it! The more places the better. 2-year-olds are into quantity, not quality!
Starting with painting also gives shy children a chance to warm up to their new environment. Once brave enough to receive one painting, they usually point to a few more places they'd like to have a design, including their face.
Since this is an individual activity, it's perfect as guests are arriving, too.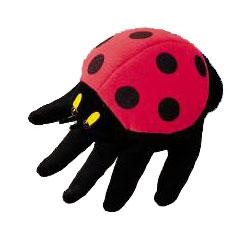 Sing-a-longs with a hand-puppet show
After everyone has been painted I gather all the toddlers together and have them sit. I slide on a hand puppet and we sing a few familiar songs together.
Example: I pull out a spider puppet and and we all sing Itsy Bitsy Spider … Then I have everyone put out a hand that would like a tickle from the pretend spider. 2-year-olds sure do love to participate!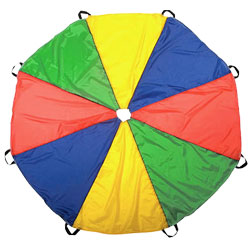 Parachute Games
After we have had enough singing, we all stand up take hold of my parachute.
Adults, older children, and the 2-year-olds all hold the edges of the parachute and we bounce a soft toy up and down on top.
Sometimes it's fun for the 2-year-olds to go underneath while the adults lift the parachute up and down. Playing peek-a-boo is a big hit.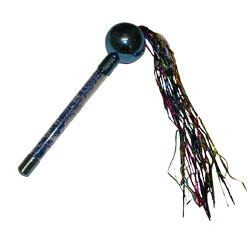 Freeze Dance
Most 2-year-olds love music. Freeze Dancing with maracas gives these little ones something to do as they dance to music.
After the freeze dance is over, I play a little more music and blow bubbles for the kids to chase and pop.
Tunnel Time
2 year olds LOVE going thru a tunnel while we adults watch. (Makes a great photo opportunity, too!) I referee and make sure the kids enter and exit in a consistent direction to prevent a collision or traffic jam!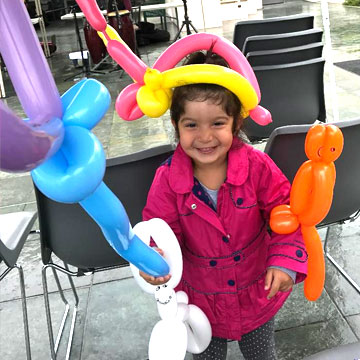 Twisty Balloon Animals
2-year-olds LOVE balloons.
I prefer making balloons be the final activity because toddlers get distracted easily. If their balloon dog untwists the ONLY thing they can think of is fixing it, and they won't participate in anything else, until it's repaired
…And if it pops, it is the end of their world until it is replaced!
I make a lot of items out of a single balloon so getting a turn goes quickly which is good because 2-year-olds have a hard time waiting.
What 2nd birthday party activities will create fun memories for your 2 year old?
Are you planning a 2 year old birthday party? Thinking of hiring a clown for a 2nd birthday?
If your party will be near Los Angeles, CA (or in the San Fernando Valley)
Call 818-994-1441 (Ask for Colette – Sparkles)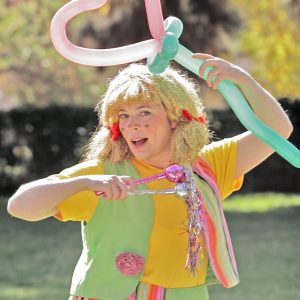 "Sparkles the Clown" provides the best 2 year old birthday party entertainment for girls and boys.
"The kids loved sparkles ! She kept all kids entertained, from 1-10 years old with games, face paint & balloons. Super sweet & funny ! !"