Who is Sparkles the Clown?
Sparkles the Clown is a fun children's entertainer. Kids are drawn to her enthusiasm and she is able to hold their attention. It's obvious that she really enjoys working with children.
Sparkles (A.K.A. Colette) dresses up with pretty makeup and gets silly with the kids. Besides face painting and making twisty balloon animals, Sparkles leads party games and interactive, age appropriate activities. (see FAQ for details)
Meet Sparkles in person: Every Tuesday 5 to 8 p.m. she makes balloons and does face painting for Pieology Pizzeria in Encino, CA
"What I love about entertaining kids that it is obvious when I have done a good job. Seeing happy faces and knowing a child felt special and important for a moment in time, partially due to me, is priceless."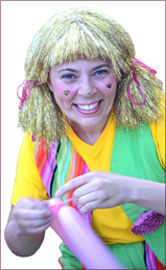 "It's feels amazing to inspire a group of preschoolers to imagine up something so fun with me that they crack up laughing. I love hearing kids laugh!"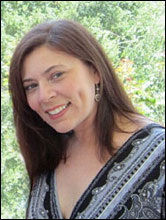 Colette Stroffolino graduated from college with a BFA in Fine Art and paints wall murals during the week. She loves bringing other peoples ideas to life with paint.
As Sparkles the Clown she creates magical environments at birthday parties and as Colette the Artist, she creates magical rooms with paint.
Lots of examples are available on her mural site. WallMurals.com
(Or visit the Murals & Gifts page here on this site)
Colette loves children, painting, and she also loves Chihuahuas. Since having a first pet, was such a meaningful experience she was inspired to write her first book. Small Dog, Big Adventures: Meet Lucie – My First Pet Ever!
  by Colette Stroffolino  (Amazon link opens in new window)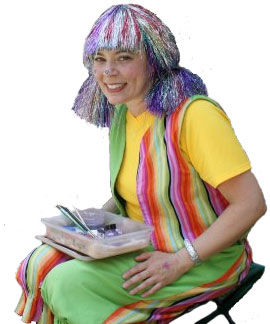 Hire Sparkles the Clown for your next Event