3 Year Old Birthday Party Entertainment
Entertaining 3 year old children is so much fun because they really know the celebration is for, and about, them.
At age 3 there are usually a lot of similar aged children present at a birthday party that have the same sense of humor and attention span. (Buddies from mommy and me classes, pre-schools or a daycare that children attend, tend to be similar ages.) Group activities can last a little longer when kids present are the same age.
Lots of parents even choose to celebrate a 3rd birthday at their child's daycare or pre-school, during the week, and have a smaller celebration with family, at home.
Need 3 year old birthday party entertainment ideas?
Here are some activities and games 3-year-old's enjoy:


Hand and Face Painting
Most 3-year-olds like getting their face painted and they enjoy watching their friends get painted, too.
Since this is an individual activity, it's perfect as guests are arriving.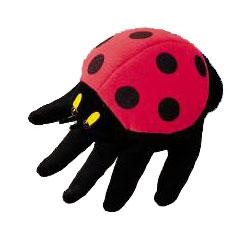 Sing-a-longs with a hand-puppet show
Once everyone has had a painting that wanted one, I gather all the children together. I have them sit down and we sing a few songs they are sure to know. Add in some hand puppets and a little pretending and things become even more fun!
Examples: Sometimes I pull out a spider puppet and we all sing Itsy Bitsy Spider together. Or I ask everyone to put one of their hands out, if they would like to be tickled by a ladybug. With another puppet we sing the ABC's.
3-year-olds sure do love to show everyone how much they know!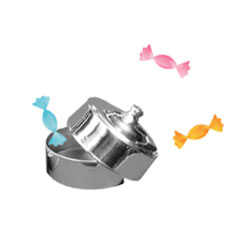 Silly Magic
While the little ones are gathered together I also have them participate in some silly magic tricks. Who knows what will appear inside a magic pan or magic bag!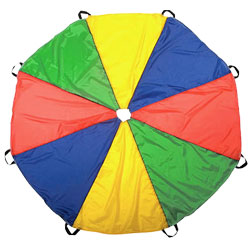 Parachute Games
Next, I have the children stand and hold the edgers or handles of my parachute. Together we bounce a soft toy up and down on top. It's fun seeing how high we can get the toy to fly upward, as well as chase after it and toss it back inside when it flies sideways.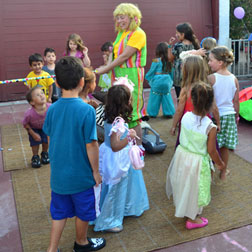 Anything Goes Limbo
Next, I get the kids to line up and hold out a limbo stick. As long as the kids are go in the same direction and go under the limbo stick…anything goes! Kids love this game.
Freeze Dancing
Even if a 3 year old is not big on dancing, they sure love a musical game of stop and go….move, move, move – and freeze!
If the kids are digging the musical games I also have a few interactive songs like Hokey Pokey and The Chicken Dance, handy.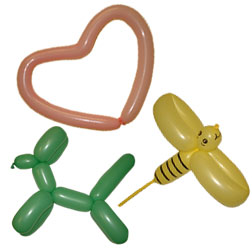 Animal Balloons
3-year-olds LOVE balloons. I make a lot of animals out of 1 or 2 balloons so everyone gets a turn without waiting very long.
I prefer making balloons be the final activity because toddlers get distracted easily. If their balloon untwists the ONLY thing they can think of is fixing it, and they won't participate in anything else, until it's repaired
…And if it pops, it is the end of their world until it is replaced!
What 3rd birthday party activities will create fun memories for your 3 year old?
Are you planning a 3 year old birthday party? Thinking of hiring a clown for a 3rd birthday?
If your party will be near Los Angeles, CA (or in the San Fernando Valley)
Call 818-994-1441 (Ask for Colette – Sparkles)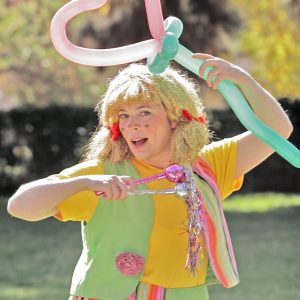 "Sparkles" is the best clown for 3 year old birthday party entertainment.
"Colette, I want to thank you so much for making the party fun ! The kids had a great time. You were so organized and did such a great job! I would definitely have you for another one of my party's 🙂 Thanks again!"
Sparkles the Clown wears a simple, colorful costume and interacts with the children in a way that allows them to warm up to the party, at their own pace.
Even shy 3-year-olds will be comfortable and participate in party activities with this clown.
"Sparkles the Clown" is a fun entertainer for 3 year old boys and girls.